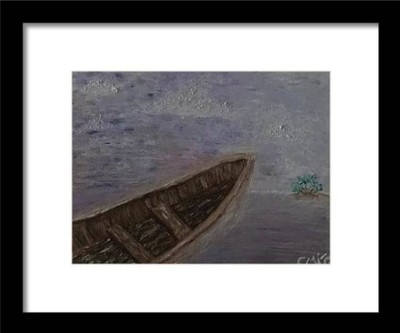 I wonder whose boat this is. I find it strange that I keep ending up in these situations. One moment I'm
talking to someone and the next thing I know I'm riding the current in a rowboat with no oars. At least
I have this stick to push myself around with. All I have to do now is wait for shallow waters so I can use it.
Hopefully, I'll drift over there to that little island. There seems to be room enough for at least one person.
I think I can make that work. Coming closer, the essence of the island vibrated peaceful freedom.
It created its own resonance chamber in me. Going there was an utter compulsion. It knew I
needed to be there and it was pulling me ever towards it. I sat quietly for a time, and allowed the
current to take me. For a time, I couldn't take my eyes off of it.
Still, this little dingy looks rickety. I think this is going to be the last ride for you tiny boat. Poor thing.
It just didn't seem right to allow my liberator to come to such a humble ending. Reaching into the
water, I pulled out a piece of driftwood. It broke rather easily, so I snapped it into a few pieces. The
boat seemed to have a life of its own. When I held the driftwood next to the small holes,
the boat decided what was missing from it's hull and absorbed only what it needed. Maybe this little boat has
more life left in it after all.
We were talking … I was about to make a point... It must not have been important. I guess it doesn't matter.
I'd rather be on vacation anyway and that little island just keeps getting closer. I'm so out of
here! A cool summer breeze brushed my hair back. I haven't worn it loose like this in years. Why didn't
I do this any sooner?
Finally, the water is shallow enough to steer the boat with my stick. I'm making good progress now.
Almost there. I looked over my shoulder to see how far I've come from and where I had been. An oddly
familiar house, on the shore I left behind, catches on fire. But I'm so far away from it now that I'm
completely safe.
I turned to look ahead, and I was already in the shallows of the island. I felt the bottom of the boat brush across the submerged sand.
The air was delicious with the smell of coconuts from the trees. My
feet splashed through the water to get to the warm sand of the beach. Like a child, I gleefully plopped
down in the sand and started building the castle for my new kingdom.
I wasn't thinking about it, but I forgot to lash the boat to the shore. Of course, it started drifting away. I
guess it needed to go and pick up its next ferry. Sad to see you go little boat, but good reddens. Maybe,
I just won't go back. Who's to say a person can't just stay on vacation for the rest of their life?
He turned to look at her as she began to speak. No doubt she was about to spew yet another rendition of the opposing point of view.
But instead, she disappeared right in front of his eyes. Seemingly, one
molecule at a time. He looked down and noticed that the floor was covered in sand. He couldn't help but be annoyed.
Where is the cleaning crew when you need them? I can see it now, a merry gaggle of
fools tunneling to the center of the planet in search of answers? Ridiculous! Maybe they'll stay there.
The reason why I want her to come back is because there's plenty that I need to say to her.
I run this place the way that I do for good reasons. I'm not trying to pick on anyone per say, we're just in trouble.
When I need everyone the most, this place ends up like a ghost town. I seriously wish the whole place would go up in flames.
At least then the insurance company would pay for it.
I deserve a good laugh. I think I'll take a moment to thoroughly make fun of the situation. He sat
down at the computer screen and pulled up her work. Why didn't I notice this before?
He gathered everything up and sent it to "he who rules with an iron mouth."
boss called soon after and in one phone call, the plans were approved. The day was going out with a flash fire.
I hope she comes back. I want her in my life and I really do need to talk to her about all that she does around here. We just don't
tell each other enough. Where is she anyway? I know she asked for vacation time, but this is ridiculous.
I wish I was there too.
At first, I thought without oars to steer with that I was on a boat to nowhere. But now that I'm here, it
seems like I was on a boat from nowhere. With the construction of my castle complete, I sat on the
warm sand underneath the coconut trees. I hope he takes the boat from nowhere. I need him here.
We walked out of the elevator per "orders." How did sand get all the way up on the seventh floor? I
wonder how many more times we're going to get blamed for other people's problems today? As we
rounded the corner to go vacuum up the sand, we all noticed that he just seemed to disappear.
He faded out of existence right in front of our eyes.
He drifted onto the beach just like I did. I motioned for him to come sit next to me on the beach.
I sat next to her on the warm sand underneath the coconut trees. The purple sunset was exquisite to
watch and the view was made complete by the burning house on the shore off in the distance.

PART 2:
Sitting next to him underneath that once in a lifetime sky was hypnotic. I don't know if it was from the
to and froe of our words, or the fact that I just wanted to dive into those large shoulders of his.
Could this get any better? I felt my face turn hot just thinking about it.(Oh God I hope my face isn't turning
red.) Then again, I've never seen him without a shirt on and I'm trying not to look. So, I turned away to
look at the sunset.
He was just sitting there softly singing the words to one of my favorite songs. The seasoning in his
voice was like a whisper from his soul. He penetrated every feeling that I have, even a few that I
thought had heeled over forever.
I really love this song. It was playing on the radio the day I first met her. It reminds me of her. I
wonder what would happen if I reached over and pulled her closer to me. Maybe I shouldn't, she's
always been a little flighty. It's kinda cute, but I think I need this to become more. With both of us
staring off into the distance at the sunset, I gently bumped my shoulder against hers. Since its making
her giggle, I'm just going to keep singing and nudging her. Sweet and peaceful like the tide washing in.
Reaching down I felt the sand. It was nice and warm before, but now it's even better with his hand
there. Touching him was better than I imagined. I already have goose bumps just being this close. I
don't think I can take anymore, but I'm just going to keep doing it anyway. Damn this is scary.
Keeping in time with the Ebb and Flow, I gripped her hand a little tighter.
I'm never letting this person go. Mine. Forget nudging, I just leaned against her shoulder and started kissing it.
I just can't wait anymore. More goosebumps, really? Sorry, but this is the point where it's too late to turn back now.
The house across the water finally burned down to the ground. It's natural conclusion coming to pass.
Now this is the kind of kiss I would expect from a poet. The whole world is crashing around us and all I can feel is his lips touching mine.
He takes my breath away. Isn't it just the way, you only meet that person at the end of everything else, right in the middle of chaos.
I'm going to keep kissing him as long as he lets me, or at least until the chaos finds us.
At this point, it didn't take a lot coaxing, but I pushed her down on the sand. Maybe this time she'll let me have the last word.
I'm going to make myself the last of everything for her. Mine.
The moment was thick with the heat between us and that might be why I was able to see so clearly those hidden things.
I made the mistake of opening my eyes after he kissed me.
I saw these thermals coming from the ground behind him and birds catching flight in the wake.
They rose higher in the sky with every passing moment. When he opened his eyes, he seemed confused that I wasn't gazing at him.
I gestured with my eyes for him to look up.
After a kiss like that, you would think I'd have her full attention. What the hell is she looking at now?
Then I saw, what looked like, columns of air with birds playing in them. I never noticed those before.
They're all over the place too. Huh. Seems like the birds are having most of the fun today.
We stood up together and a strong gust of wind picked both of us up just a bit. It wasn't enough to fly,
but I swear it was like we levitated for a few minutes. When that happened he held me by the hand and
the waste. We spun in the wind for a time. The ultimate slow dance swirl. Each of us humming the song
in our heads. Soft music, the kind you fall in love by.
Our feet were no longer on the ground and the entire world faded away from us.
All I knew was this man I was holding in my arms. I was just happy letting him spin me around in the place where nothing
existed but us. Falling through all of the layers of his soul that he's showing me through his eyes. I
could feel all of those times he ever felt pain and came bursting back through. That good soul of his
that comes shining back smiling in spite of it all. Those eyes of his soothe. I just want to let him move me.

Our velvet landing back on the sand was sensual in itself. We were in a different place now just the
two of us. The ground felt like rolling thunder under our feet. Then all we could see was the on-coming
freight train of horse flesh barreling down at us. They were coming and it was just too late to get out of
the way. He stood his ground, and pushed me behind him, they ran past us on each side.
You could feel the heaviness of a ton of solid muscle running past. Their footsteps sounded like deep base beating drums.
The wind was incredible. I closed my eyes a little because it felt as good as a warm bath.
When the herd was running freely in the pasture, the alpha horse approached him slowly while keeping eye
contact. She slowly laid her head on his shoulder as if to thank him for not panicking.
A peaceful existence between the species.
The now familiar gust of wind began to carry us to our next landing......

This wind was stronger than the others. It threw me off balance and I didn't mean to but I pushed him
away. My God, I am so sorry my love. I never meant to become one of those layers of pain that you try so hard to hide.
I adore you in every way, from head to toes, in every way that is permitted and those that are forbidden.
When I saw the hurt that I just pushed into you, I died a little. Please forgive me and
save us both.
I can't believe she did that. Was that on purpose? Should I let go? We talked about this so many times.
Oh, she's looking a little pale in the face and I'm sensing lots of regret there. Just how much of this am I
expected to take?
Instead of holding on to the push, he held her instead. They both pulled each other closer. She
whispered "I'm sorry," to him repeatedly. He thought to himself about how she is a little broken,
that love is patient, and that she holds him back when he needs it. There was never a space between them
ever again. They melted into each other mind, body and spirit. For a time, they themselves existed as the
spirits of the wind....
The winds of change blow in from nowhere and sometimes they leave you wanting and in unfamiliar places, but not today.
We still had each other.
He was the only man I ever knew that could catch the winds of change and ride them to eternity.